Tilan Island in Tanah Putih Sub-District, Rokan Hilir
---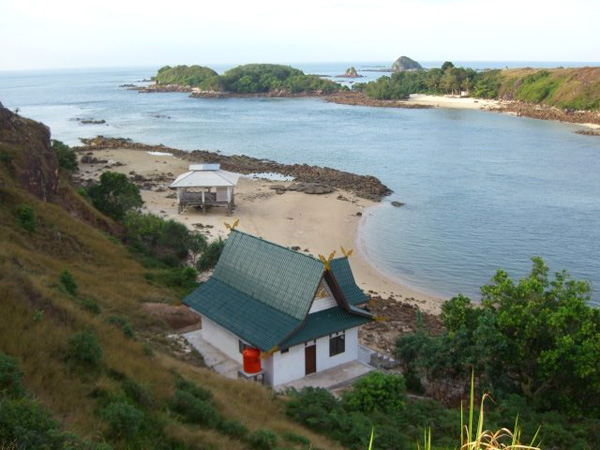 Rokan Hilir has been recognized by passionate travelers for its beautiful lake called Napangga. However, other tourist spots can be found there including Tilan Island. It is located in Tanah Putih Sub-District and it is popular for its beaches. The location is across Rantau Bais Village so it is quite accessible. Featuring white sandy beaches and unspoiled nature, the island would be a perfect spot to enjoy a family recreation and relaxation. Not to mention visitors can climb the hills which are scattered on the island. Above all, the locals are friendly so tourists can approach them without hassle.
The Nuance
Tilan Island has many features including nature attractions and local facilities. No wonder, tourists would feel comfortable when exploring the island. Despite the small size (about 500 hectares), it provides visitors with many adventure opportunities. Apart from its beautiful beach, Tilan has several gazebos which are located near to the hill. Those structures become the checkpoint or resting area for tourists before they explore other parts of the island. When it comes to facilities, some locals are seen in the location and they are always ready to help everyone.
Exploring Tilan Island
The most popular tourist activity in Tilan Island is nature adventure. It can be either beach walking or hiking because the island provides them all to tourists. The grassy landscape covers the hill, which makes it a great place for trekking. From the top of the hill, the views are indeed breathtaking and it features fresh air as well. Actually, the best time to visit the hill is before the sunset or sunrise. From the site, the sparkling lights of villagers' house look so amazing. Those look like a formation of fireflies at night.
Next, tourists should get around the island and try to meet exotic white storks. They often drop by in Tilan Island for either resting or feeding. These birds would definitely become a good object for photography, especially among animal lovers. Apart from the storks, many other beautiful objects are waiting to capture. These include the beach, hill, local people, and the sun views. Even local's activities like fishing and farming are worth a photo shoot. As mentioned before, the villagers are approachable and they would help tourists when it comes to finding accommodations and foods.
Just because Tilan Island has a small size, doesn't mean it lacks facilities. On the other hand, tourists can find supportive facilities like gazebos, canoes, fishing boats, pier, playground, mini golf, etc. For more adventure, they can explore nearby natural forest and conduct camping there. Some researchers are sometimes seen in that location, too.  With all those nature attractions, Tilan Island never ceases to amaze both locals and outsiders.
Nearby Attractions
Napangga Lake
Janda Lake
Jemur Island
Batu Belah
Rantau Bais Village
How to Get There
From Pekanbaru City, travelers need to head to Rokan Hilir District and it may take about several hours. Once they get there, they can head to Tanah Putih Sub-District directly. From there, it takes 20 km to reach Rantau Bais Village. This is the checkpoint where tourists should rent a traditional boat and head to the island. The trip takes about 10 minutes, actually.
Where to Stay
Duri Hotel
Bit Hotel
RPS Hotel

Latest News
Luxurious and quiet. Perhaps this is one of the appropriate nicknames for the calm and spacious beauty of Zamrud Lake. The lake which located in conservation area is located in Siak Sri Indrapura Regency, Riau province. Besides having a large surface, this lake also has islands. There are large and small islands. Uniquely, these islands can move. This island is marshland floating above the lake. Big and deep, of course. You can not imagine how deep this lake is. Not only that. On this big island also live thousands of…
---
This wildlife reserve forest is spread in an area of ??1,332,169 ha and it inhabited by many species of flora and fauna that typical of lowland forest. Its area of mangrove trees decorated corridor through the Kampar River, that made ??it so special among other forests which spread across the island of Sumatra. Kerumutan reserve forest is a conservation area that located in Kerumutan sub-district and spreading across two districts namely Pelalawan and Indragiri Hulu, Riau Province. The forest boundary is the River of Indragiri, Kampar River, the East Coast…
---
Rimbo Terantang tourism forest is located in Padang Lawas village. This tourism is having marvelous nature tourism between the genuine forest and it has exotic flora. This tourism object is officially becomes the research area for nature phenomenon for both flora and fauna. This type of tourism for this forest is adventurous tourism; the visitors who come to this place are those who seek for adventure need while enjoy the fresh atmosphere, chilling situation and great sightseeing. www.indonesia-tourism.com
---
Merbau Island Merbau is an Island and a district in the Meranti Islands regency, Riau, Indonesia. The city district is Renak Rungun. Meranti Islands Regency is a result of the expansion area Merbau District, formed on January 26, 2011. Where the Pulau Merbau District is covering the entire island of Pulau Merbau, while Merbau subdictrict covers the entire island of Padang. The island has bordered with Malaka strait in north, west Tebing Tinggi sub district in south, Merbau sub district in west, west Rangsang in east.     www.indonesia-tourism.com
---