Visiting Pelalawan District in Riau Province
---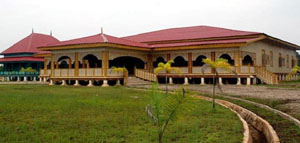 Riau Province has a potential District called Pelalawan, which is also famous for its tourism. It even produces abundant resources like coconuts, palm oil, and forestry. Plus, it has a signature nature attraction which is the peatland. Some rivers are also worth an exploration due to their unique black water. Even Pelalawan has several stunning islands on which tourists can visit like Muda, Lebuh, Serapung, Mendul, Labu, Ketam, and much more! On top of that, it offers an interesting history and culture to everyone. Some traditional tribes even live in forests, including Sakai, Laut, and Mamak Tribe.
The Nuance
Consisting of both land and islands, Pelalawan District becomes a suitable vacation destination for everyone. The most recognizable attraction is the formation of mangroves and lowland forest reserve. In a nutshell, all parts of the city are worth an exploration so they are suitable for tourists who love an adventure. Nature lovers should also take their time to visit it because they have the chance to meet unique local animals and numerous majestic species of flora. Not to mention Pelalawan also satisfies those who love photography.
Exploring Pelalawan District
Being one of the youngest Districts in Riau Province, Pelalawan is considered a new tourist spot as well. Despite the fact, it has been growing well over time, offering many improvements in all sectors including tourism. Once tourists reach the city, they may notice a mesmerizing gate which becomes the main entrance of Pangkalan Kerinci business area. Near to the location, there is Datuk Bandar Setia Diraja Custom Hall. It has unique Malayan Architecture with beautiful carving. No wonder, it becomes one of the most recommended tourist spots in Pelalawan to visit.
The next famous landmark in Pelalawan District is Tengku Pungeran Sports Center. Those who love sports activities should never miss visiting the location. As an alternative, tourists can visit a beautiful grand mosque called Ulul Azmi. It is, in fact, the biggest mosque in Pelalawan. After visiting the mosque, either for resting or photography, the next adventure is to visit the capital of Pelalawan which is Pangkalan Kerinci. It is the home of a famous pulp and paper company called RAPP. Aside from that, it offers beautiful tourist spots as well including Kampar and Bono River.
What is next? After exploring all parts of Pelalawan District, tourists should enjoy its culture and art attractions as well. For examples, there are traditional dances like Silat Payung, Bagendong, Zapin, Badewo, and Belian. As for traditional music, Pelalawan has gambang, gambus, nafiri, and kompang. Even local foods are the best. These include curry and smoked fish! Tourists can enjoy them in any local eateries or citizen's houses.
Nearby Attractions
Teluk Meranti Sub-District
Kampar River
Tesso Nilo National Park
How to Get There
For outsiders, they can take advantage of any transportation service and head to Pekanbaru City. The next checkpoint is Pangkalan Kerinci, which is the capital of Pelalawan District. The trip takes about 3 hours and 30 minutes. It can be either faster or longer depending on the traffic. Still, the best route to use is Lintas Timur Street.
Where to Stay
Lily Homestay
Sardella Hotel
Dafam Hotel

Latest News
Luxurious and quiet. Perhaps this is one of the appropriate nicknames for the calm and spacious beauty of Zamrud Lake. The lake which located in conservation area is located in Siak Sri Indrapura Regency, Riau province. Besides having a large surface, this lake also has islands. There are large and small islands. Uniquely, these islands can move. This island is marshland floating above the lake. Big and deep, of course. You can not imagine how deep this lake is. Not only that. On this big island also live thousands of…
---
This wildlife reserve forest is spread in an area of ??1,332,169 ha and it inhabited by many species of flora and fauna that typical of lowland forest. Its area of mangrove trees decorated corridor through the Kampar River, that made ??it so special among other forests which spread across the island of Sumatra. Kerumutan reserve forest is a conservation area that located in Kerumutan sub-district and spreading across two districts namely Pelalawan and Indragiri Hulu, Riau Province. The forest boundary is the River of Indragiri, Kampar River, the East Coast…
---
Rimbo Terantang tourism forest is located in Padang Lawas village. This tourism is having marvelous nature tourism between the genuine forest and it has exotic flora. This tourism object is officially becomes the research area for nature phenomenon for both flora and fauna. This type of tourism for this forest is adventurous tourism; the visitors who come to this place are those who seek for adventure need while enjoy the fresh atmosphere, chilling situation and great sightseeing. www.indonesia-tourism.com
---
Merbau Island Merbau is an Island and a district in the Meranti Islands regency, Riau, Indonesia. The city district is Renak Rungun. Meranti Islands Regency is a result of the expansion area Merbau District, formed on January 26, 2011. Where the Pulau Merbau District is covering the entire island of Pulau Merbau, while Merbau subdictrict covers the entire island of Padang. The island has bordered with Malaka strait in north, west Tebing Tinggi sub district in south, Merbau sub district in west, west Rangsang in east.     www.indonesia-tourism.com
---