Jemur Island in Rokan Hilir District, Riau
---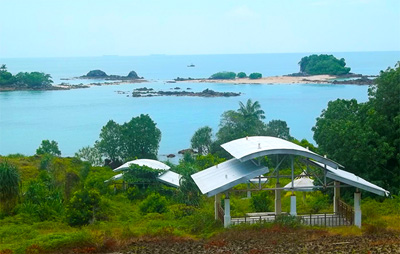 A new reference of tourist spots is available in Rokan Hilir District and the name is Jemur Island. It is the formation of small islands, including Labuhan Bilik, Tekong Simbang, Tekong Emas, and other isles. No wonder, most of the visitors are those who want to enjoy island hopping and explore all those islands one at the time. Another important fact is that the island resides near to Malaka Strait, which is famous for its west monsoon wind. Not to mention many types of exotic sea creatures live there. For tourists, the island becomes a new paradise they should explore once.
The Nuance
It is not recommended to visit Jemur Island during the presence of West monsoon wind. Why is that? The waves become wilder and dangerous for those who want to conduct island hopping. Even local fishermen should postpone their activity and wait for calmer waves. However, some of them simply hide between the formations of islands located near to Jemur. The presence of those isles protects them from big waves, so they can go fishing later when the waves are safer. For tourists, they must come during a friendlier season where the weather is nice and more exotic sea creatures are seen there including sea turtles.
Exploring Jemur Island
Without a doubt, island hopping becomes a prime tourist activity to enjoy in Jemur Island. As long as tourists come at the right time and find a reliable tour agent, they can explore all the islands there. In this case, they might need to carry more money. It costs much money to accommodate the vacation, after all. These include renting a boat, find a good accommodation, buy foods, etc. Not to mention many other tourist attractions are available for them to visit in Rokan Hilir District.
Apart from island hopping, Jemur Island is famous for its sea creatures, especially sea turtles. During a specific season, those turtles go to the beach and lay hundreds of eggs. Tourists would be lucky if they can witness such nature phenomenon. According to the locals, the best time to meet those beautiful creatures is at night. Not only there are regular sea turtles, some green sea turtles are also seen in Jemur Island. The local government even puts an effort and develops the island into a natural breeding site for sea turtles.
What's more? Jemur Island offers other fun activities for tourists to do, including canoeing, surfing, diving, and beach walking. All of these activities are usually popular among outsiders, especially those who love watersports. What about ordinary visitors? For families with kids, they can choose simpler activities like photography or sightseeing. Therefore, no one should forget to carry a camera when exploring the island.
Nearby Attractions
Rupat Island
Japan Cave
Panglima Layar Stone
How to Get There
From Pekanbaru City, travelers can directly head to Bagansiapi-api (the capital of Rokan Hilir). The distance is 250 km and it takes about 6 hours to reach the location. Once they get there, the next destination is the nearby port and they need to take a boat to Jemur Island, having the distance of 45 miles.
Where to Stay
Good hotels are available in Bagansiapi-api City and Rengat Island

Latest News
Luxurious and quiet. Perhaps this is one of the appropriate nicknames for the calm and spacious beauty of Zamrud Lake. The lake which located in conservation area is located in Siak Sri Indrapura Regency, Riau province. Besides having a large surface, this lake also has islands. There are large and small islands. Uniquely, these islands can move. This island is marshland floating above the lake. Big and deep, of course. You can not imagine how deep this lake is. Not only that. On this big island also live thousands of…
---
This wildlife reserve forest is spread in an area of ??1,332,169 ha and it inhabited by many species of flora and fauna that typical of lowland forest. Its area of mangrove trees decorated corridor through the Kampar River, that made ??it so special among other forests which spread across the island of Sumatra. Kerumutan reserve forest is a conservation area that located in Kerumutan sub-district and spreading across two districts namely Pelalawan and Indragiri Hulu, Riau Province. The forest boundary is the River of Indragiri, Kampar River, the East Coast…
---
Rimbo Terantang tourism forest is located in Padang Lawas village. This tourism is having marvelous nature tourism between the genuine forest and it has exotic flora. This tourism object is officially becomes the research area for nature phenomenon for both flora and fauna. This type of tourism for this forest is adventurous tourism; the visitors who come to this place are those who seek for adventure need while enjoy the fresh atmosphere, chilling situation and great sightseeing. www.indonesia-tourism.com
---
Merbau Island Merbau is an Island and a district in the Meranti Islands regency, Riau, Indonesia. The city district is Renak Rungun. Meranti Islands Regency is a result of the expansion area Merbau District, formed on January 26, 2011. Where the Pulau Merbau District is covering the entire island of Pulau Merbau, while Merbau subdictrict covers the entire island of Padang. The island has bordered with Malaka strait in north, west Tebing Tinggi sub district in south, Merbau sub district in west, west Rangsang in east.     www.indonesia-tourism.com
---