Sagaria Camp Site in Bunut Sub-District, Pelalawan
---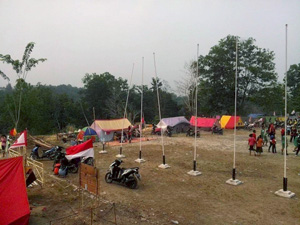 Not many travelers have heard about a camp site named Sagaria, which is located in Bunut Sub-District. It is because the government has not considered it as an official tourist spot so they don't put an effort to promote it. Despite the fact, some tourists have recognized its potential especially to be a spot for camping. It is not only available for the locals, but outsiders are also allowed to enjoy the activity as long as they get the permission from the villagers. Also, they need to make sure no official events are being conducted there like Jamboree which is done by boy scouts.
The Nuance
The fact is that Sagaria is a name of a hill in Bunut Sub-District. The campsite, though, becomes the most famous tourist attraction there. It features a plain land that comes with an average size. Still, the campsite can accommodate many people either those who want to camp or explore the area. Another fact is the location is surrounded by lush trees and bushes, so people can conduct a small exploration there. Sometimes, the locals use the site to conduct an event apart from camping and jamboree, which are local festivals and performances. It is rare to see those attractions these days, though.
Exploring Sagaria Camp Site
Camping is the main reason for tourists to come to Sagaria Hill. They want to get away from the hectic daily routines and enjoy some games or beautiful nature. They also have the chance to try new activities that they never did before. On top of that, this can be done with their lovely families or friends. Sagaria Camp Site provides a perfect landscape to do such activity, after all. The thing is visitors must have prepared the equipment beforehand including the tent, ropes, foods, etc. No nearby facilities are available so they must be prepared.
Each person has a different activity preference when it comes to camping. In order to avoid boredom, they need to have some ideas to do games when spending time in Sagaria Hill. The best one is the card games because everyone can prepare the cards easily. Not to mention many variations of card games can be played in groups. This helps them bond with families or friends when camping, for sure. As an alternative, singing or play guitar is also recommended as it makes the nuance merrier.
As mentioned earlier, Sagaria Camp Site is surrounded by nature. That means tourists are allowed to get out the tent and wander in a nearby tropical forest. In fact, they can conduct several activities like bird watching, bug collecting, and picking fruits. At night, the most recommended activity to do is collecting fireflies. Another thing they must never miss is to set up a bonfire!
Nearby Attractions
Pelalawan City
Kerumutan
Tesso Nilo National Park
How to Get There
From Pekanbaru City, the trip may take about 2-3 hours depending on the traffic. The distance is 109 km, after all. Tourists can take advantage of Lintas Timur Street as it is considered the fastest route to reach the site. Once they get to Bunut Sub-District, they need to head to the foothill of Sagaria before heading to the campsite.
Where to Stay

Latest News
Luxurious and quiet. Perhaps this is one of the appropriate nicknames for the calm and spacious beauty of Zamrud Lake. The lake which located in conservation area is located in Siak Sri Indrapura Regency, Riau province. Besides having a large surface, this lake also has islands. There are large and small islands. Uniquely, these islands can move. This island is marshland floating above the lake. Big and deep, of course. You can not imagine how deep this lake is. Not only that. On this big island also live thousands of…
---
This wildlife reserve forest is spread in an area of ??1,332,169 ha and it inhabited by many species of flora and fauna that typical of lowland forest. Its area of mangrove trees decorated corridor through the Kampar River, that made ??it so special among other forests which spread across the island of Sumatra. Kerumutan reserve forest is a conservation area that located in Kerumutan sub-district and spreading across two districts namely Pelalawan and Indragiri Hulu, Riau Province. The forest boundary is the River of Indragiri, Kampar River, the East Coast…
---
Rimbo Terantang tourism forest is located in Padang Lawas village. This tourism is having marvelous nature tourism between the genuine forest and it has exotic flora. This tourism object is officially becomes the research area for nature phenomenon for both flora and fauna. This type of tourism for this forest is adventurous tourism; the visitors who come to this place are those who seek for adventure need while enjoy the fresh atmosphere, chilling situation and great sightseeing. www.indonesia-tourism.com
---
Merbau Island Merbau is an Island and a district in the Meranti Islands regency, Riau, Indonesia. The city district is Renak Rungun. Meranti Islands Regency is a result of the expansion area Merbau District, formed on January 26, 2011. Where the Pulau Merbau District is covering the entire island of Pulau Merbau, while Merbau subdictrict covers the entire island of Padang. The island has bordered with Malaka strait in north, west Tebing Tinggi sub district in south, Merbau sub district in west, west Rangsang in east.     www.indonesia-tourism.com
---