Tembulun Rusa Waterfall in Kemuning Sub-District, Indragiri Hilir
---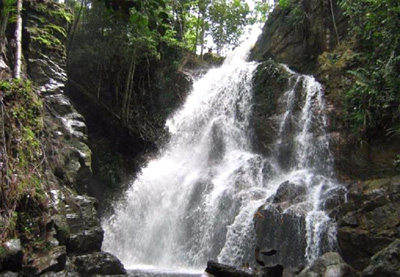 What makes natural tourism interesting? It gives opportunities to travelers to get closer to nature and enjoy refreshing air that they rarely get in the city. Not to mention many references of nature tour spots are available to explore. For those visiting Indragiri Hilir District, they must visit a recommended tourist spot called Tembulun Rusa Waterfall. It is located in Batu Ampar Village and belongs to Kemuning Sub-District, actually. From Dabo Singkep City, the distance is approximately 15 km. Despite the secluded location, it offers a stunning beauty and lush nature.
The Nuance
As mentioned before, it is a difficult to reach the falls as tourists need to pass through a challenging route with a slippery landscape. This is why they need to wear comfortable footwear when exploring the site. Once they reach the site, they can see a grandiose waterfall having the height of about 18 meters. It has a tilted landscape and several stones, on which tourists can climb on in order to reach the top of the falls. It also features a pond with the depth of approximately 1.5 meters. It is said the water comes from Ngibul River which flows to Reteh River. The location is surrounded by lush big trees, actually.
Exploring Tembulun Rusa Waterfall
One of the charms of Tembulun Rusa Waterfall is its landscape. In order to get to the falls, tourists should conduct a small trekking. Instead of complaining, they are likely to enjoy it. All the way to the destination, they can see dense big trees and other nature attractions. At the time, they can use their camera to capture some beautiful objects before reaching the waterfall. Despite the tiring trip, it helps everyone to get closer to nature and enjoy trekking. Those who love hiking won't consider it a tiring adventure, for sure.
The amazing flow of water of Tembulun falls would astonish all visitors. Not only tourists can conduct sightseeing, but they are allowed to get in the pond and take a bath there. It is safe for adults, but kids can also get in it as long as they come with their parents. For those who want to take a bath in the pond below the falls, they must have prepared extra clothes beforehand. Also, using soap is not recommended when bathing in it.
Another charm of Tembulun Rusa Waterfall is the presence of valuable stones. The locals often pick and bring them back to make agate jewelry.  The fact is the local government gives a name to those stones, which is Inhil. The name is the same as the region where the waterfall resides, actually. For tourists, they are allowed to take some of the stones as long as they come with a villager.
Nearby Attractions
Delapan Enam (86) Waterfall
Batu Leman Cave
Bungo Hill
Ngibul River Rafting
How to Get There
The main route to get to Batu Ampar Village is Lintas Timur Street. From Dabo Singkep City, the distance is approximately 15 km. Once travelers reach the village, they need to conduct trekking for about 2 km, heading to the north.
Where to Stay
Inhil Pratama Hotel
Telaga Puri Hotel
Top 5 Hotel