Indragiri Hulu District in Riau Province
---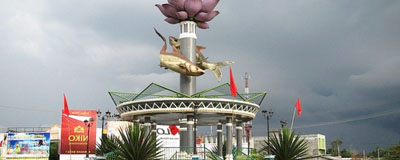 Only passionate travelers have heard about Indragiri Hulu. It is one of the districts, which are located in Riau Province. The locals also often call it Inhu, actually. It even becomes the cleanliest region in Riau and has been visited by many tourists as the time goes by. The name of the capital is Rengat City and the people who live there are quite approachable. With all those facts, tourists won't regret visiting Inhu either for spending a vacation or doing any business activities. It now becomes a recommended tourist spot for those who are visiting Riau Province.
The Nuance
Indragiri Hulu District has the size of 819,826 hectares and it features different types of landscapes including lowland and highlands, having the height of about 50-100 meters above the sea level.  There are several swamps as well. In the north, it is bordering with Pelalawan District and Bungo Tebo District in the south. In the west, Inhu is bordering with Kuantan Senggigi District and Indragiri Hilir District in the east. No wonder, tourists can easily access the region regardless of where they come from.
Exploring Indragiri Hulu
So, what can tourists do in Indragiri Hulu? It is called a historical city, so visitors might expect to see numerous historical and cultural sites there. The most famous one is the series of the legacy of the Indragiri Kingdom and several historical tombstones. As for the reference, tourists should never miss the chance to visit a complex of Indragiri Kings' Tombstones. The location is in Kota Lama Village, which resides in West Rengat Sub-District. It takes about 45 km from the downtown, exactly. In the site, tourists may find the tombstone of King Narasinga II and his families.
Apart from historical sites, Indragiri Hulu District is also famous for nature attractions. For instance, there is Raja Lake which is located in Rengat City. The fact is that it was used by the royal family for bathing back then. No wonder, the locals named it "Raja" (King) Lake. Near to the lake, there have been good facilities for tourists including hotels. That means tourists can spend the night in that area and later enjoy more fun activities there. They must carry enough money to pay any services and facilities, thoughThe next adventure is in Tiga Puluh National Park. The location is in Batang Gansal Sub-District and it offers majestic tropical forest and numerous species of endangered animals like Sumatran Tiger, Orang Utan, Asian Tapir, Sumatran Rhino, Sumatran Elephant, and much more. In the site, tourists can also find a beautiful waterfall which is located in the midst of the forest. If they are lucky, they might meet indigenous people who live in that area, which is Talang Mamak Tribe.
Nearby Attractions
Tiga Puluh National Park
Raja Rengat Lake
Meduyan Lake
Denalo Waterfall
How to Get There
For those coming from Pelalawan District or Pangkalan Kerinci, they may spend about 4 hours to reach Indragiri Hulu District. The distance between those regions is 160 km, so it may take some time to reach the destination.
Where to Stay
Hotel Trans Sungai Lala
Hotel Danau Raja Rengat
Miki Mutiara Hotel
Angela Homestay