Kerumutan River in Pelalawan District, Riau
---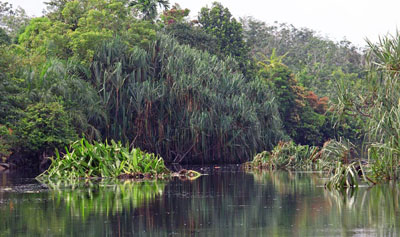 Spending a vacation in Kerumutan River is considered worthy. It belongs to Pelalawan District and located in Kapau Village. The locals, who are mostly fishermen, take advantage of the river to catch fishes. For tourists, the river becomes an interesting spot to witness local activities and relaxing. They can even rent a boat and explore the river along with other passengers. The views around the river are quite excellent, after all. Not to mention they have the chance to visit nearby famous tourist spot called Kerumutan Wildlife Nature Reserve Forest, as well.
The Nuance
Kerumutan River flows to Meranti Bay. The color of the water is a bit dark, but it has stable current. Most of the time, local speedboats (Pompong) are seen there carrying tourists. Each of the boats can carry about 6 people. These people love to ride the boat because they are able to see lush nature during the boat trip. These include the Bencano Tree and a local forest. The best thing is that the river becomes the home of tons of fishes. No wonder, many local fishermen are often seen there.
Exploring Kerumutan River
When exploring Kerumutan River, tourists would be able to witness lush nature view especially peatlands. In fact, the river passes through Kerumutan Forest so tourists can ride a boat and enjoy the views of such woodland. Not to mention they can meet numerous species of flora and fauna. On top of that mangroves surround the area which offers a unique nuance to the river. With the black water, the river may astonish everyone including foreigners. Exploring the river is a new experience, after all. Even families with kids are able to enjoy the vacation.
In a nutshell, Kerumutan River has similar characteristics to other black-water rivers like Siak's Kayu Ara. The color of the water is dark and it becomes the home of exotic animals like wild ducks, Arowana, and even Sumatran Tiger. Apart from animals, tourists can also see several rare trees especially Ramin. The environment is lush so it feels like exploring an Amazon River. During the adventure, tourists can even see birds hunting snakes on trees. It is an interesting event, so tourists are allowed to use their camera to take pictures of it.
Kerumutan River has some parts with different depth and shape. Some spots even feature local Keramba (Fish Boxes) that belong to villagers. No wonder, people who live in Meranti and Kerumutan Village depend on the river much for a living. Those people are also a nature lover. In fact, they are quite friendly to visitors and tourists. For tourists, they should take the time to enjoy local specialties as well, especially Umbut Rotan Curry!
Nearby Attractions
Teluk Meranti Sub-District
Kampar River
Tesso Nilo National Park
How to Get There
From Pekanbaru City (Riau's Capital), travelers can take a bus to Pangkalan Kerinci in Pelalawan District. The distance is 137 km so it may take about 3-4 hours to get there. Also, the best route to use is Lintas Timur Street.
Where to Stay
Lily Homestay
Sardella Hotel
Dafam Hotel

Latest News
Luxurious and quiet. Perhaps this is one of the appropriate nicknames for the calm and spacious beauty of Zamrud Lake. The lake which located in conservation area is located in Siak Sri Indrapura Regency, Riau province. Besides having a large surface, this lake also has islands. There are large and small islands. Uniquely, these islands can move. This island is marshland floating above the lake. Big and deep, of course. You can not imagine how deep this lake is. Not only that. On this big island also live thousands of…
---
This wildlife reserve forest is spread in an area of ??1,332,169 ha and it inhabited by many species of flora and fauna that typical of lowland forest. Its area of mangrove trees decorated corridor through the Kampar River, that made ??it so special among other forests which spread across the island of Sumatra. Kerumutan reserve forest is a conservation area that located in Kerumutan sub-district and spreading across two districts namely Pelalawan and Indragiri Hulu, Riau Province. The forest boundary is the River of Indragiri, Kampar River, the East Coast…
---
Rimbo Terantang tourism forest is located in Padang Lawas village. This tourism is having marvelous nature tourism between the genuine forest and it has exotic flora. This tourism object is officially becomes the research area for nature phenomenon for both flora and fauna. This type of tourism for this forest is adventurous tourism; the visitors who come to this place are those who seek for adventure need while enjoy the fresh atmosphere, chilling situation and great sightseeing. www.indonesia-tourism.com
---
Merbau Island Merbau is an Island and a district in the Meranti Islands regency, Riau, Indonesia. The city district is Renak Rungun. Meranti Islands Regency is a result of the expansion area Merbau District, formed on January 26, 2011. Where the Pulau Merbau District is covering the entire island of Pulau Merbau, while Merbau subdictrict covers the entire island of Padang. The island has bordered with Malaka strait in north, west Tebing Tinggi sub district in south, Merbau sub district in west, west Rangsang in east.     www.indonesia-tourism.com
---