Menduyan Lake in Old City, Indragiri Hulu, Riau
---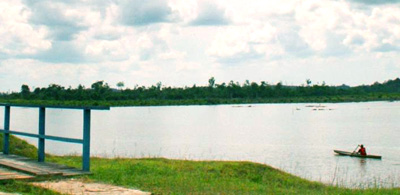 It is worthy to visit one of the districts of Riau Province called Indragiri Hulu. Not only it is popular with its complex of Indragiri king's tomb, but it also offers several nature tourist spots. Here is the reference. The name is Menduyan Lake and it is located in Kota Lama or Old City. Featuring an unspoiled beauty of nature, it becomes a wonderful spot to relax and eradicate stresses. Even outsiders have recognized its name and start coming to the site whenever they have the chance. Today, it has become one of the best vacation destinations in Inhu (Indragiri Hulu) as well.
The Nuance
As mentioned before, the main feature of the lake is its natural nuance. It is because the local government hasn't developed it into an official tourist spot nor built facilities for visitors. Despite the fact, the lake offers a distinct charm to people, which is its purity. The water is calm and some locals are seen rowing on their canoe as well. In the horizon, a formation of trees is seen clearly and the clouds look so amazing up there. Overall, the nuance would satisfy any people who come to the lake regardless of the time of visit.
Exploring Menduyan Lake
Menduyan Lake is quite popular among families because it becomes their favorite spot for a recreation. People would gather near to the lake and sit on the grass while enjoying the natural beauty of the site. Some of them even carry foods and eat them together with their families there. The atmosphere is quite peaceful, after all. That means there are no sounds of vehicles and hectic activities which may cause stresses like that of the city. As for the tip, those who eat foods or snacks should take care of the trash. No one is allowed to spoil the nature. That's common rule.
It is rare to see people swimming in Menduyan Lake but that doesn't mean it is not possible. The thing is the lake is considered quite deep, so swimmers must not be careless. Not to mention the water is not quite clear. As an alternative, tourists can do other fun activities like fishing, sightseeing, relaxation, and wandering around the sides of the lake. These are safer than swimming in the lake. Another reason is that no guards are seen in the location so no one could help tourists if something bad happens during swimming.
Another fun activity to try in Menduyan is to ride a canoe and get around the lake. It requires a bit effort to be able to enjoy such activity, though. Only a few of villagers have the canoe and not all of them allow tourists to use it. Still, with a good communication skill and bargaining, tourists can get a canoe for sure.
Nearby Attractions
Indragiri Kings' Tomb Complex
Raja Rengat Lake
Tiga Puluh National Park
How to Get There
From Pekanbaru City, travelers need to spend about 4 hours to get to Indragiri Hulu District. Next, they can head to Kota Lama from Rengat City and the distance is about 17 km. Have no worries. The trip would be faster during a low traffic.
Where to Stay
Rafana Hotel
Danau Raja Hotel