Buluh Cina Village in Siakhulu Sub-District, Kampar
---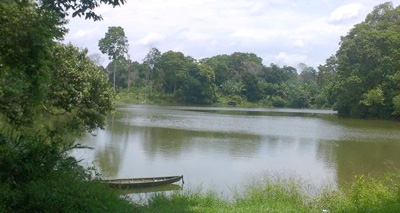 A culture tour always brings curiosity to passionate travelers. For those who look for a reference, there is a good vacation destination in Kampar District. The name is Buluh Cina Village and it belongs to Siakhulu Sub-District. It is a well-known site among both locals and foreigners due to its traditional culture and lush tropical forest. On top of that, the location is near to Pekanbaru City (the capital of Riau Province) so it becomes a mandatory vacation destination for those who are visiting Riau. No wonder, the government confirms it as an official tourist village.
The Nuance
Featuring a fresh atmosphere and unspoiled nature, Buluh Cina never fails to amuse visitors. The location is near to Kampar River, which also becomes a significant attraction there. Not to mention there is a tropical forest having the size more than 100 hectares! It another main charm of the village, on which tourists can explore. When it comes to traditional culture, the village has some similarities to that of Minang and Koto Kampar Tribe. Somehow, such traditional way of living attracts tourists who want to learn more about the culture of people in Riau.
Exploring Buluh Cina Village
Regarded as a tourist village, Buluh Cina indeed offers interesting local culture to visitors. For instance, tourists can learn about the presence of two major tribes who live there. They are Domo and Malay Tribe. The best place to witness local activities is in the river, where kids play and women wash clothes. Some traditional boats are also seen there, used by local fishermen to look for fishes. The next thing to do is to visit local farms, where villagers work diligently to cultivate crops. Observing such traditional activities, somehow, gives a peaceful feeling.
For those who love fishing, they can choose one spot to do such activity. Have no worries. Buluh Cina Village has at least 11 lakes! All of them are suitable for fishing and relaxation, in fact. As an alternative, tourists can go to a nearby tropical forest and wander around to enjoy the lush of nature and exotic animals. Lots of majestic trees grow in that area, providing a comfortable atmosphere to its surrounding. The signature plants can be found as well, especially wild orchids and areca.
People who live in Buluh Cina Village are known for their skill in creating traditional boats and buckling. Tourists can meet them on the nearby river, actually. It is even possible to buy one of their products! Next, the village offers several cultural buildings like custom hall, Malay Kampar traditional houses, and a museum (displaying the heritage of the ancestors). Another unique charm of the village is the annual competition which is done during the anniversary of Riau Province – the dragon boat race. Even foreigners often join the competition!

Nearby Attractions
Kampar River
Rengas Lake
Rawang Lake
Lagun Lake
Tuok Tonga Lake
How to Get There
Buluh Cina Village is located in Siakhulu Sub-District and it takes about 2 hours from Bangkinang (the capital of Kampar District). For those who come from Pekanbaru City, though, only need to spend an hour or less as the distance is only 20 km.
Where to Stay
Tiga Dara Hotel & Resort

Latest News
Luxurious and quiet. Perhaps this is one of the appropriate nicknames for the calm and spacious beauty of Zamrud Lake. The lake which located in conservation area is located in Siak Sri Indrapura Regency, Riau province. Besides having a large surface, this lake also has islands. There are large and small islands. Uniquely, these islands can move. This island is marshland floating above the lake. Big and deep, of course. You can not imagine how deep this lake is. Not only that. On this big island also live thousands of…
---
This wildlife reserve forest is spread in an area of ??1,332,169 ha and it inhabited by many species of flora and fauna that typical of lowland forest. Its area of mangrove trees decorated corridor through the Kampar River, that made ??it so special among other forests which spread across the island of Sumatra. Kerumutan reserve forest is a conservation area that located in Kerumutan sub-district and spreading across two districts namely Pelalawan and Indragiri Hulu, Riau Province. The forest boundary is the River of Indragiri, Kampar River, the East Coast…
---
Rimbo Terantang tourism forest is located in Padang Lawas village. This tourism is having marvelous nature tourism between the genuine forest and it has exotic flora. This tourism object is officially becomes the research area for nature phenomenon for both flora and fauna. This type of tourism for this forest is adventurous tourism; the visitors who come to this place are those who seek for adventure need while enjoy the fresh atmosphere, chilling situation and great sightseeing. www.indonesia-tourism.com
---
Merbau Island Merbau is an Island and a district in the Meranti Islands regency, Riau, Indonesia. The city district is Renak Rungun. Meranti Islands Regency is a result of the expansion area Merbau District, formed on January 26, 2011. Where the Pulau Merbau District is covering the entire island of Pulau Merbau, while Merbau subdictrict covers the entire island of Padang. The island has bordered with Malaka strait in north, west Tebing Tinggi sub district in south, Merbau sub district in west, west Rangsang in east.     www.indonesia-tourism.com
---