Kerumutan Wildlife Nature Reserve Forest Pelalawan District, Riau
---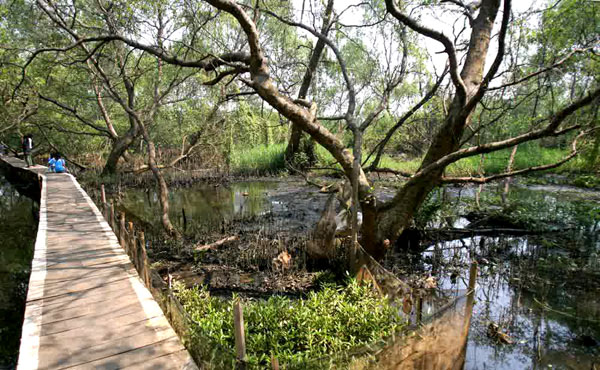 Riau Province provides more attractions than tourists can imagine. One of them resides in Pelalawan District, which is called Kerumutan Wildlife Nature Reserve. Actually, it belongs to Kerumutan Sub-District and becomes a great place to witness numerous types of fauna and flora. Not only it is popular among the locals, but it is also recognized by foreigners. Here is the fact. The nature reserve has been chosen by UNESCO as one of the most significant world's biosphere reserves. The title was given in 2009 during a convention in Jeju Island, Korea.
The Nuance
In a nutshell, Kerumutan Wildlife Nature Reserve Forest consists of 25% of dry swamp and 75% of peat swamp. The total size of the site is about 1,332,169 hectares! Such massive wildlife reserve becomes the home of tons of fauna and flora, including mangroves. Due to its enormous size, it shares two borders of District as well, which are Indragiri Hulu and Pelalawan. It is also situated near to numerous famous tourist spots like Kampar River, Indragiri River, and East Coast of Sumatra Island. Providing lots of features and nature attractions, it should be everyone's choice when visiting Kerumutan, Riau.
Exploring Kerumutan Wildlife Nature Reserve Forest
Such lowland forest has different types of landscapes, but it has basic area. These include the core, intervention, and peat protected area. The core area has the size of 93,223 hectares, which is the primary site to witness fauna and flora. The second one is the biggest, having the size of 1,176,743 hectares. It features mangroves and peat, actually. What about the third one? Well, it is considered the potential expansion of the first one, having the size of 52,213 hectares.
The primary function of Kerumutan Wildlife Nature Reserve Forest is to preserve the richness of lowland forest and local farms. Still, it also offers specialties like Sumatran Tigers and Peat Forest. Not to mention there are lots of species of animals living there including honey bear, arwana, wild duck, white heron, and much more! Even Sinyulong crocodile can be found there. On top of that, many species of birds often come to the forest to migrate. This explains why such wildlife nature reserve gets both titles of EBA and IBA (being a perfect place for birds, especially the endangered ones, to migrate).
What about the flora? What kind of species living there? Visitors can witness several famous wild plants like Shorea, Nephentes, Nypa, Pandanus, and much more. With the richness of wildlife, tourists are likely to spend hours on the site. After exploring the forest, they can later visit nearby indigenous people and learn their culture. These include Petalangan and Duanu Tribe. As long as tourists come with a local tour guide, they can even communicate with those people.
Nearby Attractions
Kampar River
Kerumutan River
Bono Tourist Spot
How to Get There
From Pekanbaru City, travelers can take any local transportation service and head to Pelalawan District. The distance is 137 km so it may take about 3-4 hours. When it comes to the best route, tourist can choose Lintas Timur Street.
Where to Stay
Lily Homestay
Sardella Hotel
Dafam Hotel