Bungo Hill in Kemuning Sub-District, Indragiri Hilir
---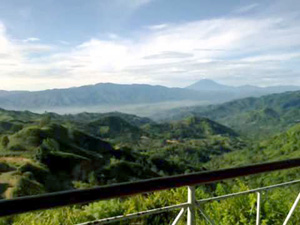 Trekking is a fun and healthy activity and almost all travelers love to do it. The question is where the best place is when it comes to trekking in Riau Province. As for the reference, there is one called Bungo Hill in Kemuning Sub-District, which belongs to Indragiri Hilir District. To be exact, it is located in Batu Ampar Village and travelers can get there from the capital of Kemuning (Selensen Village), having the distance of 4 km. The locals call it "Bukit Berbunga" which means a bloomy hill, actually. As the name suggests, the hill features numerous types of flowers coming with a fragrant aroma and stunning colors.
The Nuance
Located on 150 meters above the sea, Bungo Hill becomes a perfect spot for hiking and sightseeing. A signature flower species grows abundantly there, which is called Manik. The fact is that they only grow in that area and they bloom throughout the season. On the top of the hill, a sandy landscape is waiting for visitors to explore. It has the size of 150 square meters and the locals call it "Gelanggang Tua". It is said that area was used by villagers to conduct cockfighting. Near to that area, there is also a spot called "Gelanggang Muda" on which tourists can enjoy breathtaking nature views and do photography.
Exploring Bungo Hill
The primary reason to visit Bungo Hill is to enjoy the beautiful landscape of flowers. Such stunning view would satisfy all tourists, even those who don't like flowers. Apart from sightseeing, they can also conduct photography there. All spots of the hill are worth a photo shoot. Somehow, the hill can also become a spot for a pre-wedding photo session. Not only it features blossoms, but the it also holds old majestic trees and several unique plants like tropical pitchers.
The next reason to get to Bungo Hill is trekking. Those who love an adventure should have tried it someday. A route to reach the top of the hill features numerous attractions, including two small rivers called Luit and Nibul. Some Periuk Beruk or tropical pitchers are also seen all the way to the hill. It even features a waterfall and cave that reside in the foothill. No wonder, visitors would like to spend some time in these nature attractions before going up to the hill.
As an alternative, tourists can go camping in the hill. One thing, they must get the permission from nearby villagers first. Not to mention they must be aware of the environment. That means they are not allowed to litter and cause harm to plants or flowers. Despite the unpopularity, camping remains an option for those who are visiting the hill.
Nearby Attractions
Delapan Enam (86) Waterfall
Tembulun Rusa Waterfall
Tiga Puluh National Park
How to Get There
From Pekanbaru City, the first destination is Kemuning Sub-District which is located in Indragiri Hilir. The trip takes about 5-6 hours as the distance is 265 km. Next, tourists should head to Ampar Village. From there, it takes only 15 minutes to reach the foothill of Bungo.
Where to Stay
Inhil Pratama Hotel
Telaga Puri Hotel
Top 5 Hotel