Pekan Tua Tourist Spot in Indragiri Hilir District, Riau
---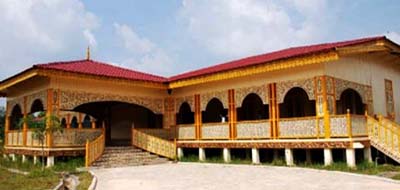 A historic village resides in Indragiri Hilir District, Riau Province. It is called Pekan Tua Village, which is located near to Pelalawan. Some passionate travelers have recognized the value of the village and they want to learn more about the history. Also, they want to see directly the reminiscences of the Pelalawan Kingdom there. Not to mention the village offers other interesting attractions such as culture and local foods. On top of that, tourists have the chance to conduct pilgrimage or religious tourism. With all those attractions, no one can resist the charm of Pekan Tua and they are likely to spend more than one day there.
The Nuance
Just like other villages in Riau Province, Pekan Tua consists of different types of landscapes. Despite the small size, it features many valuable and historical sites, including tombs, palace, cannon, etc. In the past, the village was a kingdom and it was built by King Indra. No wonder, many ancient items can be found in the village. The local government takes advantage of those historical items to lure more visitors and get more revenue from the tourism industry. The village is also recognized for its historical value, on which many tourists are interested in.
Exploring Pekan Tua Tourist Spot
Without a doubt, Pekan Tua Village becomes a favorite vacation destination to learn the history of the local kingdom, which shares the same name with the village. Visitors can learn the story from the locals or a tour guide, actually. As an alternative, they can read a book or a leaflet provided by a tour agency. Those who love history would be quite excited to be visiting that region. Families with kids are also seen sometimes!
Apart from learning the history of the local kingdom, tourists often come to the village to do a pilgrimage tour. No wonder, Sultan Mahmud Syah I's tomb resides there. He was the 8th king and died in 1511. Today, his tomb becomes a public interest due to its sacredness and people come to the site to look for a blessing. Some of them even come to the tomb regularly, especially during Fridays (the best time to do pilgrimage according to Islam).
In a nutshell, Pekan Tua Village is considered the center of heritage in Indragiri Hilir District. It is highly recommended for those who are interested in both culture and history. Furthermore, tourists have the chance to enjoy other attractions including the local dance (Rentak Belian), cane work, foods, etc. As for the accommodations, tourists can choose either hotels or locals' houses. It would be great if the villagers provide a room to them freely.
Nearby Attractions
Solop Beach
Bloomy Hill
Batu Ampar Waterfall
How to Get There
Many ways are available to get to Pekan Tua Village. From Pekanbaru City, it takes about 5-6 hours as the distance is 241 km. Tourists can take advantage of Lintas Timur Route for a more comfortable trip. For those coming from Pelalawan, they only need to take 35 minutes to get to Pekan Tua by speedboat.
Where to Stay
Telaga Puri Hotel
Inhil Pratama Hotel
Wisata Inn