Pangkalan Lesung Hotspring in Pelalawan District
---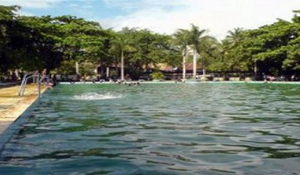 Pelalawan District is a significant tourist spot in Riau Province. It has a famous nature reserve in Kerumutan and other interesting vacation destinations. As for the reference, a hot spring resides in Pangkalan Lesung Sub-District. It belongs to Tambun Village and becomes a great choice for relaxation. The site is usually crowded on the weekends and holidays, so it is better to come in the workdays instead. This way, visitors can enjoy a more peaceful atmosphere and enjoy the hot spring to their heart's content. For the local government, the hot spring becomes a potential tourist spot which can lure more visitors to Palalawan.
The Nuance
In the past, the hot spring belonged to a nearby company. Thanks to the local government. It has become a public tourist spot these days. They even provide good facilities in order to retain the number of visitors and attract new tourists. That means they take a good care of the hot spring and try to improve it over time. In terms of nuance, there is a prime pond containing lukewarm water. Many trees and plants surround the site, so they provide a comfy nuance to visitors. The location is even near to a famous tourist site called Equator Monument.
Exploring Pangkalan Lesung Hot Spring
There are many reasons to visit Pangkalan Lesung Hot Spring. For instance, tourists come to the site to relax and eradicate stresses. It is said the water helps people to relieve their burdens and life issues. It is because the water feels quite comfortable and rejuvenating. It is also said that the water can heal several skin diseases and retain skin rejuvenation. With the size of 100 m2, it can accommodate many visitors who want to take a bath there. The fact is hundreds of visitors might come during weekends, coming from nearby villages or other districts.
For tourists, taking a bath in a hot spring pond is definitely interesting. Not only they can get relieved from stresses, the water helps them increase skin condition. Here is the fact. The skin pores open when making a contact with warm or hot water. That means taking a bath in a hot spring helps the skin to get rid of toxin and dirt easily. Not to mention it improves the blood flow so everyone may prevent dangerous disease like hypertension.
As for the tips, visitors must carry extra clothes when visiting the hot spring. Also, using soap when taking a bath in the hot spring pond is not allowed. The pond can be used only for soaking and simple bathing. For soaping, it can be done later in the restroom or toilet. It is a common rule that everyone has already been aware of, after all. Also, eating snacks during bathing is prohibited.
Nearby Attractions
Pangkalan Lesung Equator Monument
Tesso Nilo National Park
Tiga Puluh National Park
How to Get There
The fact is the location is near to Pangkalan Lesung Hot Spring. From Kerumutan Sub-District, the trip takes about 1-2 hours and the distance is 42.1 km. Once they reach the Regent Office of Pangkalan Lesung, they can simply walk to reach the site.
Where to Stay