Tasik Putri Pepuyu in Tanjung Padang Village, Meranti District
---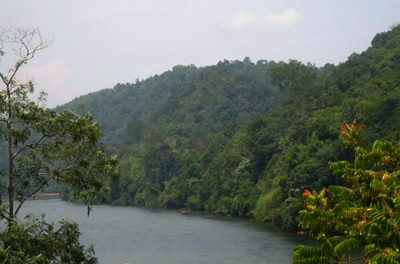 Meranti District is a region that travelers should never miss when visiting Riau Province. Featuring several nature attractions, it becomes a great option for those who are going to spend a holiday. As for the reference, there is Tasik Putri Pepuyu located in Tanjung Padang Village and it belongs to Padang Merbau Island. To be exact, it is a nature tourist spot and it is located in the middle of a protected forest. Due to its unspoiled environment, people would love to come to the area to do several activities like camping, canoeing, exploration, and sightseeing.
The Nuance
Tasik Putri Pepuyu consists of different types of features and landscapes. These include lush big trees, a lake, bushes, and numerous species of plants. The air is fresh and the nuance is definitely peaceful. When it comes to the weather, the site has mostly nice and warm atmospheric condition. In the lake, tourists might see some canoes sometimes. Not to mention the water looks beautiful with its crystal clear appearance. With all these features and natural charms, the site becomes a comfortable place to get closer to nature and relaxation.
Exploring Tasik Putri Pepuyu
The question is what tourists should do in Tasik Putri Pepuyu. Well, it can be as simple as nature exploration. The fact is the site has many interesting natural objects for them to witness. When exploring the site, though, everyone should wear proper footwear and clothes because the condition is a bit damp there. Also, they need to ensure to come during a nice weather. It won't be comfortable to explore the site when it is raining, after all. It is also recommended to put some anti-insect cream to repel mosquitos.
The next fun activity to do in Tasik Putri Pepuyu is witnessing the lake. Even though tourists can't swim in it, they can do other fun things like photography and ride the canoe. There are not many canoes available, though, so tourists must queue in order to get their turn in riding the boat. Not to mention they must come with a local guide if they have never tried such activity before. As an alternative, visitors can simply enjoy fishing or also sightsee. They need to carry their own fishing rod, though.
Another thing that everyone should do in Tasik Putri Pepuyu is to learn the history of the site.  It is said there is a self-mobilising island located in the midst of the lake. Some people say a mystical power is behind such phenomenon. Another interesting story is the legend of King Terubuk and Pepuyu Princess. Both of them were lovers, but lots of people gave no blessing to their love. In order to retain the love, they decided to come to Tasik Putri Pepuyu secretly when they missed each other.
Nearby Attraction
Panjang Strait
Tebing Tinggi Island
Padang Island
Tasik Nambus
How to Get There
From Pekanbaru City, travelers only need to head to Meranti District. Once they get there, they can directly get to Bengkalis Sub-District. Putri Pepuyu is located in the west part of the region and tourists can reach it by boat. To be exact, it resides in Tanjung Padang Village.
Where to Stay
Grand Meranti Hotel
Lily Hotel
Red 9 Hotel

Latest News
Luxurious and quiet. Perhaps this is one of the appropriate nicknames for the calm and spacious beauty of Zamrud Lake. The lake which located in conservation area is located in Siak Sri Indrapura Regency, Riau province. Besides having a large surface, this lake also has islands. There are large and small islands. Uniquely, these islands can move. This island is marshland floating above the lake. Big and deep, of course. You can not imagine how deep this lake is. Not only that. On this big island also live thousands of…
---
This wildlife reserve forest is spread in an area of ??1,332,169 ha and it inhabited by many species of flora and fauna that typical of lowland forest. Its area of mangrove trees decorated corridor through the Kampar River, that made ??it so special among other forests which spread across the island of Sumatra. Kerumutan reserve forest is a conservation area that located in Kerumutan sub-district and spreading across two districts namely Pelalawan and Indragiri Hulu, Riau Province. The forest boundary is the River of Indragiri, Kampar River, the East Coast…
---
Rimbo Terantang tourism forest is located in Padang Lawas village. This tourism is having marvelous nature tourism between the genuine forest and it has exotic flora. This tourism object is officially becomes the research area for nature phenomenon for both flora and fauna. This type of tourism for this forest is adventurous tourism; the visitors who come to this place are those who seek for adventure need while enjoy the fresh atmosphere, chilling situation and great sightseeing. www.indonesia-tourism.com
---
Merbau Island Merbau is an Island and a district in the Meranti Islands regency, Riau, Indonesia. The city district is Renak Rungun. Meranti Islands Regency is a result of the expansion area Merbau District, formed on January 26, 2011. Where the Pulau Merbau District is covering the entire island of Pulau Merbau, while Merbau subdictrict covers the entire island of Padang. The island has bordered with Malaka strait in north, west Tebing Tinggi sub district in south, Merbau sub district in west, west Rangsang in east.     www.indonesia-tourism.com
---